Temperament f the Golden Retriever
KNOW BETTER THE GOLDEN RETRIEVER AND FIGURE OUT IF IS THIS TEMPERAMENT YOU ARE FOR IN A DOG.
17 December 2013 ·
The golden retriever is like the Labrador retriever but with longer hair.
They well knew mainly because of their intelligence and well-mannered characteristics.
They love people, that's why they are a typical family dog that can live really well in apartments.
They are playful and they have a lot of energy. So if you are thinking about adopting a Golden Retriever you must considerer their energy and try to go with your dog to the countryside or to a park and let him run and play quite often.
Although they are playful they are too well-mannered. Because of their intelligence It is easy to train a Golden retriever.
Find your next friend in Clasf India:
Dogs: Golden Retriever Temperament
Golden retriever puppies for sale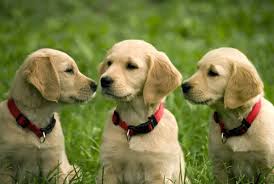 Related news