The most famous personality from India - Mahatma Gandhi
SHORT-STORY ABOUT THE GREAT LIFE OF GAN
16 October 2013 ·
The most famous personality from India - Mahatma Gandhi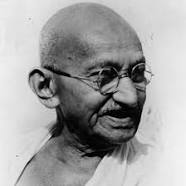 He proved to the world that you don't need a violence to do a revolution.
The famous passive resistant leader.
Gandhi was the responsable for the nonviolent revolution against the British Empire.
He proved to the world that is possible to do a revolution without violence.
He went to London to study advocacy nut in 1893 he went back to India, where he had started on the campaign for peace between Hindus and Muslins, but his big cause was the nonviolent fight against the British empire in India.
He lived his life believing and defending equal rights for all lives.
Did you know that there is a University with his name? See what they offer
Related news