Do you love long hair?
FIND HERE WAYS TO GET LONG HAIR
28 January 2014 ·
If you are a long hair lover and you really want to have one ASAP, there is some easy ways to have it.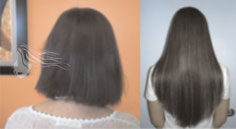 To have a beautiful long hair you need to have healthy hair, and once the health of your hair is strong associated with what you eat you need to have a healthy diet.
It means to eat a lot of vegetables, fruit, rice, etc, etc… but with no fat at all.
Avoid the unhealthy foods and try to eat more vitamins and proteins and healthy fats like nuts.
If you keep a daily healthy diet and if you combine the process with special hair products you will see the difference and good results very soon.
And off course, never forget to be delicate with your hair. Stop ripping through it every day because that, for e.g., damage your hair.
Another condition is to dry the hair and use smaller amounts of oily hair.
Find in Clasf that can help you:
Related news